Increasing the number of women in construction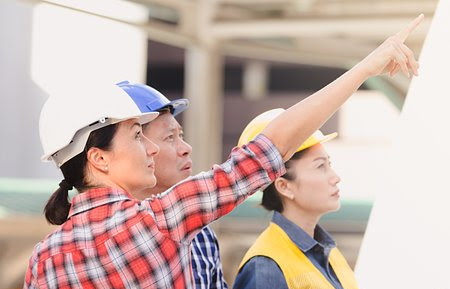 Increasing the number of women in construction is happening at ground level
In Australia, women currently make up only
11% of the construction
industry's total workforce and only 1% of building trades. The industry is missing out on the skills and talents of half the population.
Addressing this imbalance in
Victoria
, the Building Equality Policy (BEP) is an Australian first and aims to disrupt gender stereotypes in the country's most male-dominated industry. But change is afoot in some companies ahead of such policy mandates. Hobart based
HED Consulting
, is wearing a badge proudly since forming this year - its gender balance is bucking the male-dominated trend.
HED Consulting Business Manager Lydia Docking is a founding partner and works within a balanced team of men and women in their roles of leadership. She says they came together as a new generation of engineers, drafters, designers and administrators where equality was at the heart of their formation and daily business. And she's sure it's no coincidence that they're attracting clients aligned with their values.
One of these clients is
Lucy Perry
, Manager at
Great Bay Construction
and board member at Master Builders Tasmania. We asked her a few questions about her experiences in the industry, along with some of her peers.
Lucy Perry, Manager, Great Bay Construction
How long have you worked in the construction industry and what do you enjoy most about your role?
I've been in residential construction for coming on 4 years and I love it. Every day is so diverse and it's great to be able to see what you're working on come to life across all stages of a project. Residential construction is fast paced and you need to be able to make considered decisions quickly throughout the process, which I find both exciting and rewarding.
Do you see change happening in the industry around women's participation?
Female voices are incredibly important in this industry, but they are often hard to come by. I think there's an opportunity for having more women in construction by sharing the stories of successful careers with students when they are considering further study or taking on an apprenticeship.
Have you found support from your industry that helps you be successful as a woman in construction?
I have and it's been refreshing to work alongside the women at HED Consulting. I have noticed their whole team has a supportive and positive culture, which makes working with them a joy! I am also a board member for Master Builders Tasmania which values the increasing number of women in the industry. It's an exciting time for women to look into this field.
Within the HED Consulting team itself, two of their talented employees show how each experience as a woman in the industry is personal but that change, when done well, allows everyone to thrive.
Falguni Patel - Civil Engineer
Falguni Patel, Civil Engineer at HED Consulting with Principal Engineer of HED Consulting, Andrew Walsh
Were there challenges in entering a male dominated industry?
I've been fortunate to not have experienced the common challenges of breaking into a male-dominated industry and I am hopeful that it's my experience that becomes the standard one.
What do you enjoy about working with HED in a gender balanced team?
Having women in leadership roles in the industry is a great asset. In my role at HED Consulting, Director Lydia Docking is an amazing example of female leadership, bringing together a gender balanced team to run a company efficiently that we can all enjoy being a part of.
So much so that I have honestly never actively thought about our gender balance! I do believe that more gender-balanced workplaces will help to dispel the preconceptions that exist within the industry.
Melisa Brandon - Architectural Draftsperson
Were there challenges in entering a male dominated industry?
Entering a male dominated industry is never easy, and I did find it quite challenging after graduating from University in my motherland (Argentina). With English as my second language, I felt the effects of these two challenges as I came to work in Australia. No matter where you are from, it sometimes feels like as women we have to prove ourselves and can struggle to have our voices heard. However, I do feel this is changing as there are now more women in the construction industry, stepping up to improve the balance and the experience we have.
Melisa Brandon, Architectural Draftsperson, HED Consulting
What do you enjoy about working with HED in a gender balanced team?
At our workplace, it feels like a multicultural home where we all respect each other's opinions, ideas and exchange knowledge freely. The gender balance means we bring our varied strengths and personalities, which influence our work culture. We (the women in the team) bring an element of interaction with music playing and acknowledging birthdays, for example. These are the little things that bring colour to our every day at work.
With organisations such as
NAWIC
and
Sydney Build Expo
creating ambassador programs for women in construction, there's an exciting momentum building. And just as exciting is that it's not solely reliant on women creating the change. Men within construction are keen to support the talents of the half population they've previously missed. One such supporter is Kenny Bowie who is employed by a global engineering consultancy and has been a panel member for Male Champions of Change (MCC), advocating for more women in the industry.
What's the purpose behind the panel?
MCC is a collaborative initiative of corporate and institutional leaders convened by Elizabeth Broderick, Sex Discrimination Commissioner, Australian Human Rights Commission. Comprising both men and women, the panel is tasked with discussing and promoting strategies and actions that elevate women's representation in leadership. The initiative has now become part of a wider initiative called the Champions of Change Coalition. Some may question why men need to be on a panel like this. But it was clear to us that to make a real difference, men and women need to work together on discrimination so that there is representation and ownership for a positive and real outcome.
What benefits do you see from having more women in the construction industry? There are so many benefits that come simply from the diversity that is happening on the ground right now. The more diverse your team the more varied perspectives, ideas, life experiences, industry (and non-industry) experiences that are brought to the table. It builds a foundation for a creative and innovative workplace that expands the scope of what's put forward that drives better outcomes.
Kenny Bowie, Project Engineering Lead, TasWater Alliance
All of these talented professionals are excited to see their industry evolving, particularly as Tasmanian construction is booming with government initiatives and consumer demand for residential homes. With businesses like HED Consulting putting gender equality ahead of the industry stereotype, it translates to a greater talent pool, an increased workforce, balanced workplaces and dynamic resources to create success across the industry for the benefit of employers, employees and all Tasmanians. It's a change being built from the ground up.