Olympian Bronte Campbell's passion when she's not in the pool - TREES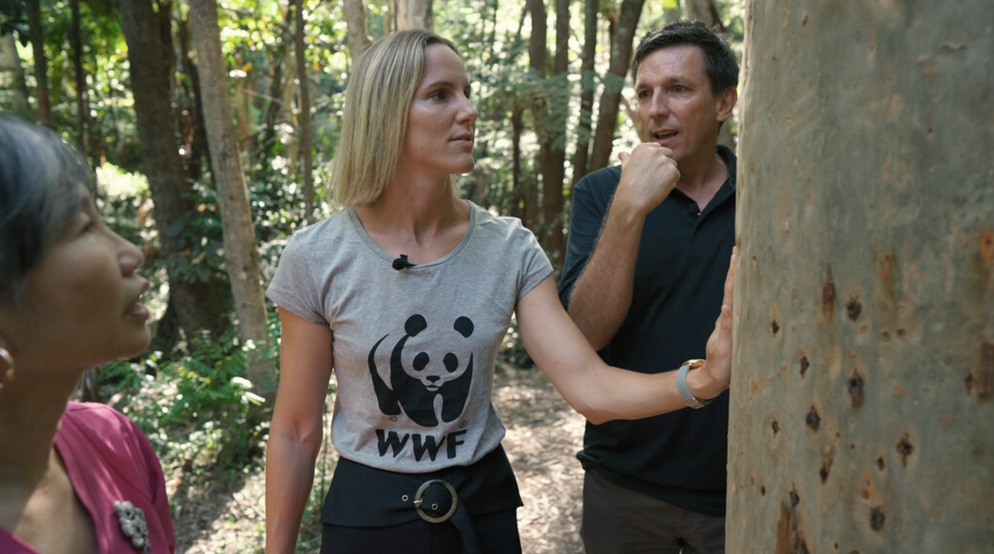 Research commissioned by the World Wide Fund for Nature-Australia (WWF-Australia) has found that over 90% of Australians would like to see more treesNew  in their community. A nation of nature lovers, 82% said they felt more calm, relaxed and at peace among trees, and 63% said trees improve their mood and make them feel happier. 
80% didn't know that eastern Australia is recognised as a deforestation hotspot - the only developed nation on the list. Also, a third (33%) of Australians agreed there was not enough education about the importance of trees to our communities, and the benefits they have to our health and wellbeing.
The research also revealed over a third (39%) of Australians surveyed were also not aware that shade from trees can help lower surface temperatures by up to 25°C. 
To support greater public knowledge and education, Doctors for the Environment Australia and WWF-Australia have released a joint report on the health benefits of trees as part of WWF's 'We All Need Trees' campaign highlighting the incredible impact of trees on our health and wellbeing.
Doctors for the Environment Australia is an organisation of medical professionals that protect human health through care of the environment. Drawing on research from environmental scientists and medical experts, the joint report uncovers the protective benefits of trees, including prevention of diseases and protection against extreme heat-related deaths. 
"Heatwaves in Australia kill more people than all the other disasters combined. Trees are one of the ways that we can really reduce people's exposure to heat," said Dr Cybele Dey from medical group Doctors for the Environment Australia (DEA).
"In streets with a tree canopy, temperatures are significantly lower. During heat waves people can suffer heart attacks, strokes, heat exhaustion, and complications with medication. This is happening at a much bigger scale than people realise," Dr Dey said.   
Trees don't just shield people from heat extremes through shade. Individual trees can transpire hundreds of litres of water per day which can have major effects on cooling the air.
Competitive swimmer and dual Olympic gold-medal winner for Australia, Bronte Campbell has joined WWF-Australia to help drive conversation to protect the world's natural resources. Bronte shared, "I have always been passionate about nature, so I am honoured to be part of the WWF-Australia family." 
Bronte shared, "We often forget how integral trees are to our lives, and the health benefits they hold. I've been fortunate to speak to experts and share that knowledge, in the hope more Australians feel empowered to gain a greater understanding about the natural benefits trees have for our environment." 
Bronte is asking your questions in a brand new bite-sized video content series, Chats for Change, where your questions about the environment, nature and climate are answered by a crew of experts. 
Answering your questions about trees in Chats for Change is Dr Stuart Blanch, a conservation scientist at WWF-Australia. He said, "Trees are champions when it comes to multitasking. But, unfortunately, many people don't know about all the amazing things trees do for us every day. Simply put, we couldn't survive without trees. They produce the oxygen we breathe, provide shade and shelter, stabilise our climate, and not only can we eat their fruits, nuts and seeds, many of our life-saving medicines come from them too."
WWF is calling for Australia to urgently transition from a deforestation hotspot to a world leader in reforestation. To learn more about the benefits of trees as well as actions you can take to protect them, visit www.wwf.org.au/what-we-do/2-billion-trees/we-all-need-trees and to watch Chats for Change head to WWF-Australia's social media @wwf_australia  #WeAllNeedTrees.