Clean up your act on Mother's Day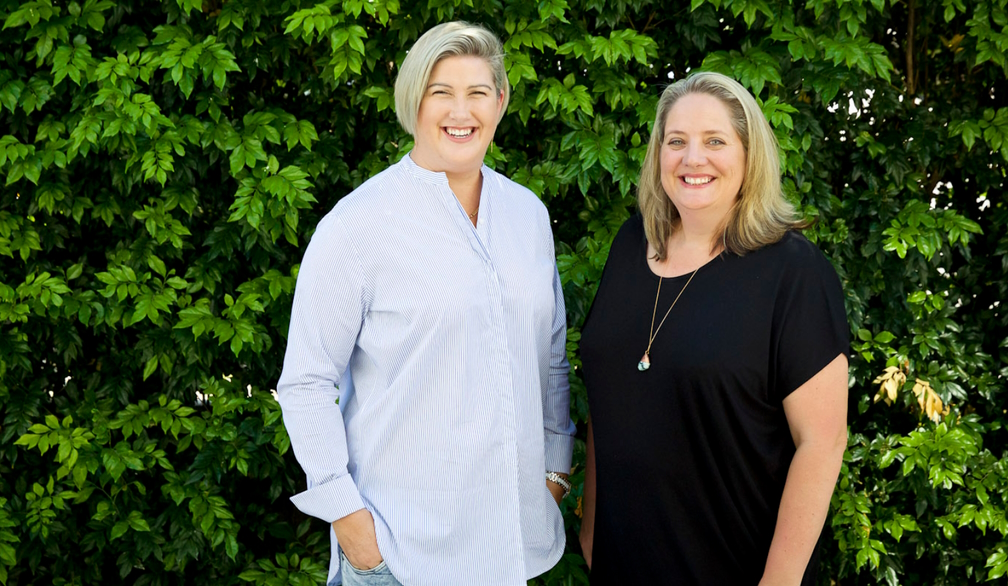 How to declutter, help save the planet and provide hope to survivors of domestic violence
As Aussies splash out $925 million this Mother's Day, two Sydney mums behind a world-first, circular economy venture are purposely regifting 'upcycled clutter' in a bid to save our planet and help rebuild the lives of women (and children) who survived domestic violence.
While decluttering their homes during COVID-19 lockdowns, Telco high-flyers turned sustainable brand entrepreneurs, Hayley Clarke and Karen Platt, were shocked to discover the bulk of 4 million candles sold annually in Australia come in unrecyclable, single-use containers.
"Like most people, we didn't realise that recycling plants in Australia – and globally – aren't equipped to handle tempered glass used in the manufacture of candle containers," says Hayley, who is currently undertaking an MBA program in Circular Economy from the UK's University of Bradford.
"We launched CandleXchange, in 2021, as the first in the global home fragrance industry to identify and tackle an overlooked waste crisis.
"Knowing ordinary Australians, like us, feel overwhelmed and helpless in the face of environmental challenges – and with even the most eco-conscious consumers unwittingly assuming candle containers can be recycled via household waste collections – we set about designing a simple solution."
On a mission to stop one million candle containers and 100 tonnes of packaging reaching landfill by 2030, Hayley and Karen co-founded CandleXchange to place eco-action directly in the hands of consumers, while raising awareness and driving behaviour change about reuse as the backbone of a truly circular economy.
As both a circular economy venture and social impact enterprise, CandleXchange's sustainable business model introduces:
the world's first zero-waste 'Burn & Swap' solution, enabling customers to return empty containers, which are refilled with 100% chemical-free, soy candles (with each return diverting 1kg of glass and packaging from landfill, alongside the added bonus of 30% off next purchase); and

an 'UpCandle' program to provide hope and comfort to domestic violence survivors by inviting householders, at no cost, to drop off other brands' empty containers (accepting only clean and good quality items) to be refilled and gifted to women rebuilding their lives in crisis accommodation, including shelters and social housing.
To date, Hayley and Karen have diverted 2.2 tonnes of used candle containers from landfill; celebrated 96% return rate of CandleXchange containers across some ranges; and gifted more than 800 upcycled candles to survivors of domestic violence.
"Statistics show one woman dies every 10 days at the hands of a former or current partner; one in three experience physical violence; and one in five, sexual violence," Karen said. "For those women and their children who survive domestic violence, we can't take away the scars, but we can offer support and hope for the future.
"Time and again, we receive feedback that the simple gift of a candle not only lights up their new home, but serves as a powerful reminder they are not alone."
Released October 2022, the Federal Government's 10-year National Plan to End Violence Against Women and Children (2022-2032) targets prevention, early intervention, response and recovery/healing.
"On Mother's Day, and every day, we are calling on all Australians to play a small part in the recovery and healing of domestic violence survivors simply by doing the right thing with empty candle containers," Karen said.
"The win-win being they can responsibly deal with household clutter by consciously repurposing the by-products of gifts of 'Mother's Days, Christmases and birthdays past' to make a very real impact on the health of our planet and lives of women in need."
In addition to gifting upcycled candles to survivors of domestic violence, Karen and Hayley work in partnership with several non-profit organisations, providing fundraising candles and delivering free candle-making workshops to women and their children at several shelters, including two Northern Beaches Women's Shelters, and BaptistCare's HopeStreet.
CandleXchange also partners with big corporates to provide sustainable activations, including workshops anchored to circular economy goals, employee and client engagement and sustainable gifting solutions, in turn underscoring ESG (environmental, social, governance) principles.
"Put simply, CandleXchange provides a sustainability no-brainer for individuals who want to enjoy creating a relaxing and welcoming home environment, while helping others and not contributing to the global waste epidemic," Hayley said.
"First and foremost, we founded CandleXchange as a circular economy venture with heart. In Australia, reuse is the only responsible solution for unrecyclable candle containers, and we look forward to the rest of the home fragrance industry catching up.
"Real change can only happen if we make it easy for consumers to better understand and reduce their environmental footprint… starting at home."
Did you know? As a sustainable brand, CandleXchange leads by example, with environmental credentials extending to zero-waste, plastic-free packaging (reusable, recyclable or compostable), and carbon neutral delivery. CandleXchange candles are made from 100% natural soy wax, with scented candles using the most environmentally responsible blend of pure essential oils and petrochemical-free natural synthetics. All candles are sold in reusable, natural fibre pouches, with online purchases packaged in repurposed boxes with recycled Hex paper. Only the metal base of each candle wick is not reusable but can be recycled. And finally, all customers receive a pre-paid Australia Post label to activate CandleXchange's unique Burn & Swap model – with return instructions accessed via a QR code on each candle lid, and returns sent using Australia Post's Climate Active certified Carbon Neutral Deliveries program.
Want to spend wisely this Mother's Day? According to new research by the Australian Retailers Association in collaboration with Roy Morgan, Aussies are set to spend $925 million on 2023 Mother's Day gifts, up $166 million (or 22 per cent) on last year. CandleXchange provides candle-loving consumers an opportunity to purchase the gift that keeps giving. Find out more: https://candlexchange.com.au/