Instant Glow Tinted Complexion Balm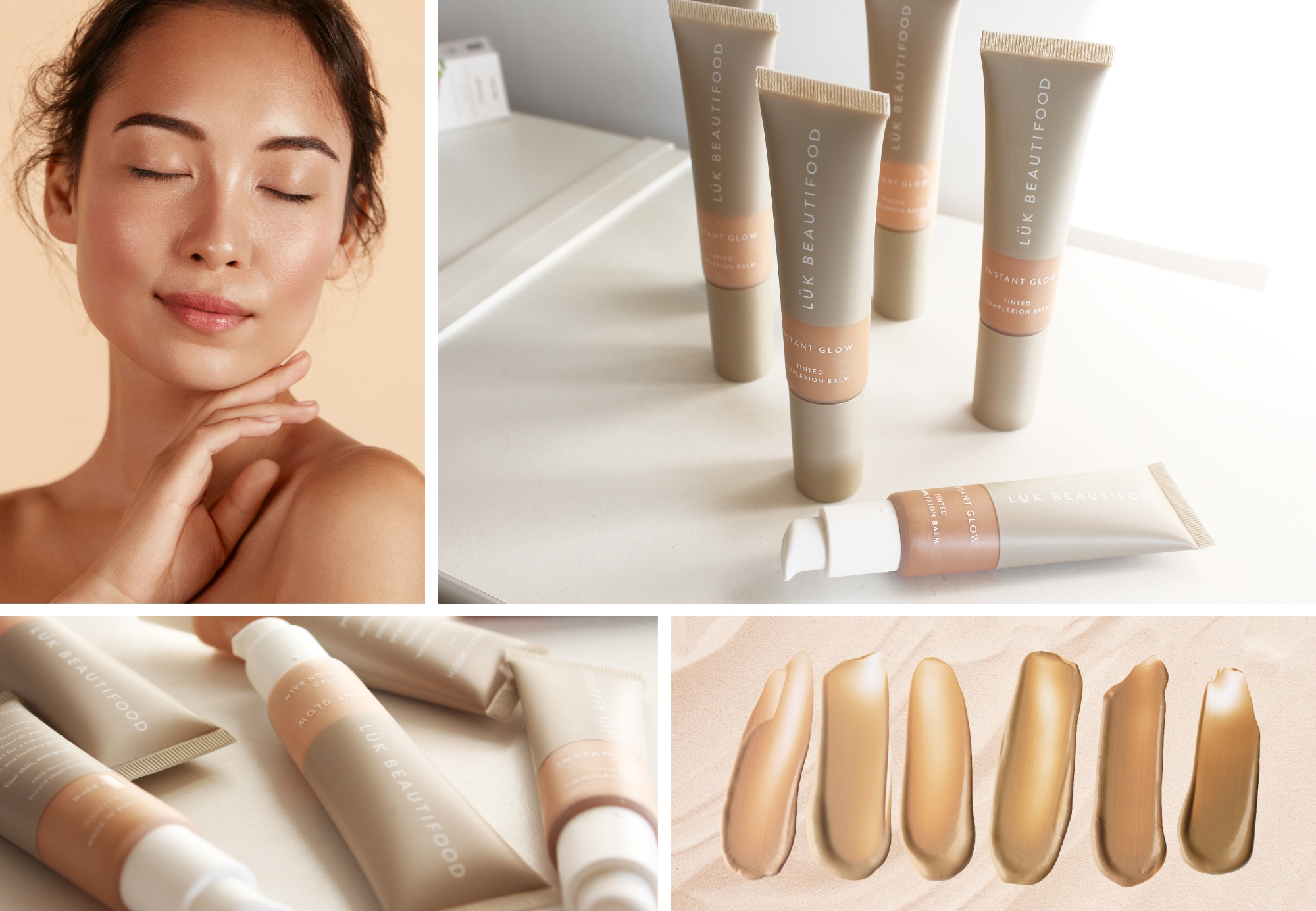 Right on hue: the all-in-one natural skin tint that replicates the skin lipid composition of a healthy 22-year-old
When it comes to foundation alternatives, skin tints are the latest innovation in effortless, 'everyday' mineral makeup. Lightweight, breathable, and precisely pigmented, they serve to even skin tone, blur imperfections, and add a sheer wash of natural-looking colour to the face.
While the category has seen the rise of other complexion balms with basic formulatory properties, namely BB creams, CC creams, and tinted moisturisers, online interest in a superior, hybrid option has risen by +37% in the last month as customers look to incorporate functional skincare ingredients in their cosmetics.
Pioneers of clean and conscious beauty, award-winning natural cosmetics brand, Luk Beautifood, today launch their Instant Glow Tinted Complexion Balm, an innovative new collection of 100% natural, all-in-one nourishing skin tints. Designed to enhance the skin's complexion and address common dermatological concerns, such as fine lines, wrinkles, acne, pigmentation, and dryness, the lightweight and breathable 'second skin' offers customisable coverage with skin-adjusting mineral pigments and is infused with ultra-fine lustre crystals to blur imperfections, even tone, and create a luminous, lit-from-within healthy glow.
Formulated with a host of naturally-derived antioxidants, minerals, essential fatty acids, and vitamins, the Instant Glow Tinted Complexion Balm contains the revolutionary L22 Non-Comedogenic Lipid Complex; a compound of clinically-proven botanical wax esters that improves barrier function and replicates the skin lipid composition of a healthy 22-year-old. Supported by Noni plant stem cells to balance skin microbiome and combat acne-causing bacteria, each tint is enriched with algae and plant-based carotenoids to reinforce the skin's personal Faraday Shield and protect from digital radiation, such as blue light.
Available in 6 debut shades engineered to adapt to different skin tones, the Australian-made, vegan-friendly, and synthetic-free range is non-greasy, non-comedogenic, and non-acnegenic, and utilises recyclable plant-based bio-plastics and Forest Stewardship Certified paper throughout its packaging.