Top 5 Aussie Bartender Shares Her Go-To Cocktails for Summer
With the warmer weather creeping in and the Summer season just around the corner, the time has finally come to whip out your bar cart essentials, and mix up some delicious, summery cocktails that you can enjoy from the comfort of your own home. And what better cocktails to start with, than ones created by a Top 5 Bartender! 

Andie Bulley from Savile Row Bar in QLD is one of Australia's most sought after bartenders, recently taking home the gold as  'Rookie of the Year' at the 2023 Bartender Awards, as well as recently placing in the top 5 in the coveted Diago World Class. Heading into the warmer months, she has teamed up with Monnet Cognac, to create three unique cocktail recipes that are perfect for the holiday hosting seasons.

All of Andie's delicious cocktails use the up-and-coming spirit Cognac, specifically Andie's favourite brand, Monnet Cognac. The French brand was founded in 1838 and Monnet Cognac sets itself apart by the radiant glow and sunny colouring of the spirit, commonly known as the 'Sunny Side of Cognac.'
Andie states, "Cognac is a spirit that is going to be massive in the next few years. It is an exciting time to be bringing this spirit to the attention of the Australian public!" With over 8000 whiskeys and over 30 cognacs behind the bar at Savile Row, Andie certainly knows what she's talking about.
"Cognac can be seen as unapproachable, but this couldn't be further from the truth. It is a delicious spirit that can be used in a multitude of ways, either straight, in cocktails or on the rocks. It has so many diverse uses, and due to its floral and tart flavour notes, it makes it the perfect spirit to add to any of your favourite cocktails."
Andie's three Monnet Cognac cocktails are the perfect showstoppers for Summer hosting, with a great option for everyone from fruity fans, all the way to after-dinner sippers.
Andie's top three recipes: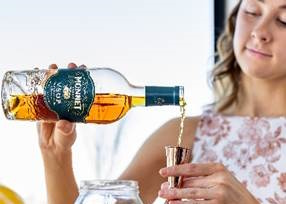 Monnet VSOP Fix
This little fruity number is perfect for hot days on the deck. It's zesty, refreshing and is the ultimate segway for introducing Monnet into your cocktail collection.
Ingredients
45mls Monnet VS
15mls Barley Syrup
15mls Peach Verjus
20mls Lemon
Instructions
Peach Verjus
To 1 litre of Verjus, add 700ml Peach Liquor
Stir until combined
Barley Syrup
Add 100g of white pearl barley to 1kg sugar and 1kg water to pot
Cook on medium to low heat for 20 minutes
Strain and store
Equipment
Stove top
Cocktail shaker
Hawthorne strainer
Fine mesh strainer
Coupe
Nip measurer
Peeler
Pot
Method
Combine all ingredients to a shaking tin
Shake cocktail until reached desired dilution/temperature
Double strain into coupe glass
Garnish with lemon wing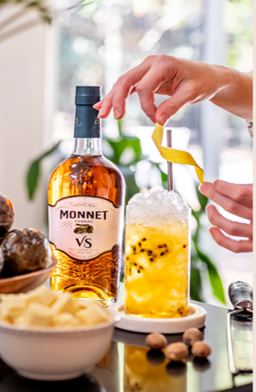 Monnet VS Swizzle
This showstopper screams Saturday night dinner parties with friends. It is
sweet, sultry and is the perfect tall drink to sip your way through the Summer.
Ingredients
30mls Monnet VS
30mla passionfruit Pulp Apera
20mls Lemon
15mls White Chocolate Liquor
10mls Honey

Instructions
Passionfruit Apera
60:45 Ratio to Passionfruit Pulp

Equipment
Cocktail Shaker

Hawthrone Strainer

Tall Glass

Microplane

Nip Measurer

Peeler



Method
Build all ingredients into shaker

Shake and strain into a tall glass

Add two scoops of crushed ice and lightly swizzle

Top with crushed ice

Grate nutmeg on top

Garnish with lemon twist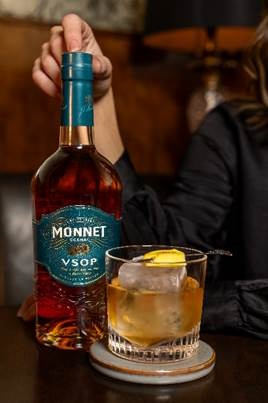 Monnet VSOP Stir Down:
For the hardcore spirit fans in your life who aren't looking for a summery cocktail vibe, this is a spin on the classic Old Fashioned.
Ingredients:
50mls Monnet VSOP

20mls Banana Liquor

10mls Cardamom Cordial

2 Dashes Angostura Bitters



Instructions:
Cardamom Cordial

To a pot, combine 10g of Cardamom (lightly toasted) 175ml sugar syrup and 5g

of Malic Acid

Cook on low to medium heat for 25 mis

Stain and bottle



Method:
Combine all the ingredients in a stirring glass

Stir the cocktail until reaches the desired dilution

Pour into a whiskey glass

Add a large cube of ice

Garnish with torched banana Lolly



Equipment:
Stove Top

Pot

Stirring Glass

Stirring Spoon

Strainer(Tulip/ Hawthorne)

Whiskey Glass

Skewer

Lighter/Blowtorch
The Monnet Cognac range is available to purchase nationally at
Dan Murphy's.
For more information, please visit https://www.monnet.com/ or https://www.instagram.com/cognacmonnet/
For further information, recipes or images, contact:
About Monnet Cognac
Monnet Cognac was founded in July 1838 under the name of "SOCIETE DES PROPRIETAIRES VINICOLES DE COGNAC" by a hundred of the smallest local growers, becoming the very first co-op in the Cognac industry, wishing to escape the quasi-monopoly of the big brands. (Hennessy, Martel, Courvoisier, and Remy Martin). 
It is the first industrial building to have been manufactured in accordance with the logical manufacturing protocol which was considered innovative and ahead of its time, being the first to include every step of the Cognac production process in one state-of-the-art site.
In 1897, the shareholders' assembly appointed Jean Gabriel MONNET to manage the house. In addition to his knowledge, Jean Gabriel MONNET brought his name and registered the brand as well as what was to become the symbol of the House, the Salamander.
Now, Monnet is known for decades of rich history and its renowned 1920s poster, 'Sunshine in a glass'.
The Monnet range includes Monnet VS, Monnet Sunshine, Monnet VSOP, Monnet XO Flamboyant, Monnet XXO and Monnet Salamander spiced liquor.