Mater revolutionises hysterectomy surgery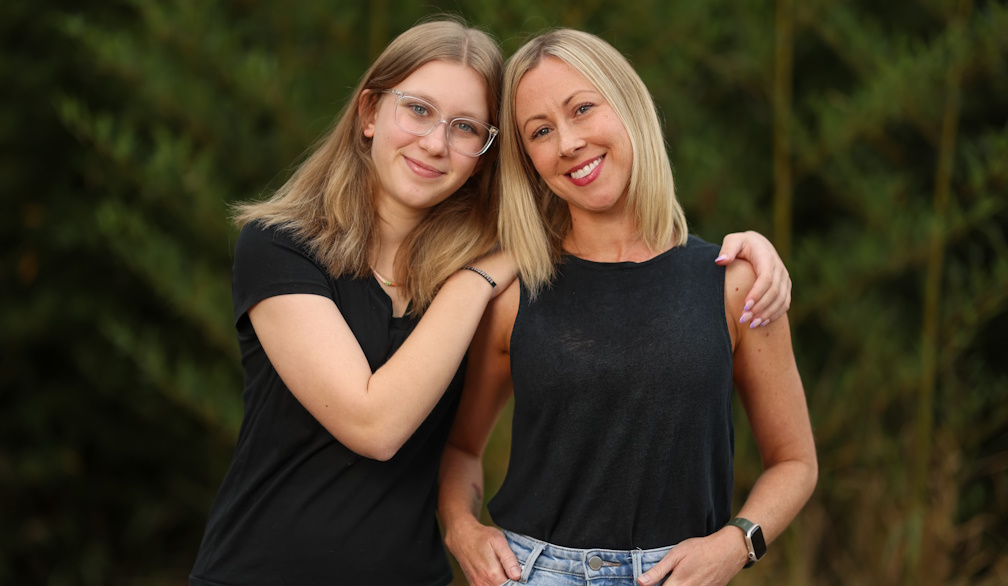 A new hysterectomy procedure that leaves no scars and causes little pain has been performed at Mater Mothers' Hospital Brisbane for the first time.
The minimally invasive surgery, performed by Mater Gynaecologist Dr James McLaren, eliminates the need for surgical incisions in the patient's abdomen.
Patient Kimberley Smith, 38, of Kenmore in Brisbane's western suburbs, said her life had changed dramatically after the Vaginal Natural Orifice Transluminal Endoscopic Surgery (vNOTES) and she was "up and about straight after surgery, and home the next day".
Each year in Australia, more than 32,000 hysterectomies are performed. The surgery involves the removal of the uterus and fallopian tubes.
The three most common ways to perform a hysterectomy include vaginal, laparoscopic or keyhole surgery and abdominal surgery which leaves the patient with a scar on their stomach, similar to that of a caesarean section.
Dr McLaren said vNOTES enabled surgeons to remove the uterus, fallopian tubes, and if required ovaries through the vagina, with the use of specialised instruments.
The instruments are placed through the vagina into the pelvic cavity, providing access to the uterus, fallopian tubes and ovaries without the need for abdominal skin incisions.
The Mater Mothers' specialist Gynaecologist learned the technique while working at King's College Hospital in London. He is now one of only a handful of surgeons qualified to perform vNOTES in Brisbane.
"Compared with an abdominal hysterectomy procedure, where recovery can take up to six weeks, minimally invasive approaches such as vNOTES provides obvious benefits such as  quicker recovery, less post operative pain and decreased blood loss," Dr McLaren said.
"Unlike the standard vaginal approach, vNOTES allows for easy access to the fallopian tubes and ovaries. Removal of fallopian tubes at time of hysterectomy has been shown to reduce the risk of ovarian cancer.
"Reduced operating times, shorter recovery in hospital and less post-operative pain medication is also a benefit of this procedure."
Ms Smith, a university of researcher, had endured immense pain and excessive bleeding for 15 years following the birth of her daughter Savannah.
"I had heard so many horror stories about the old-fashioned hysterectomy procedure and the long recovery time, I couldn't believe that after the vNOTES I was walking around and back at the gym doing yoga and Pilates within a couple of days," Ms Smith said.
"The surgery completely changed me from the day I got home. Before surgery I suffered immensely. The pain left me bedridden for three days at a time each month. The advances in surgery for this type of operation are astonishing."
Since introducing the procedure at Mater Mothers Hospital Brisbane in March this year, Dr McLaren has performed 10 vNOTES hysterectomies, and will soon be providing the surgery at Mater Private Hospital Brisbane and Springfield.
vNOTES hysterectomies can be performed for a number of conditions such as uterine, fibroids, prolapse of the uterus, pelvic pain, abnormal or heavy menstrual bleeding, and painful periods.
Dr McLaren said there were a number of alternative treatment options available before a hysterectomy was required.  
"Vaginal, laparoscopic, abdominal and vNOTES hysterectomies all have their place and the decision on which is the best approach should be individualised and discussed with the patient. vNOTES won't replace our alternative approaches to hysterectomy but it is a fantastic option for our patients.
"Mater has also implemented an Enhanced Recovery After Surgery Program for certain patients undergoing gynaecological procedures, including vNOTES hysterectomies, to provide select patients the option of going home on the same day as surgery," he said.